When you call Insurance Restoration Services, you are calling water damage professionals certified by the Institute for Inspection, Cleaning, and Restoration Certification (IICRC). You are calling a restoration company with years of experience and state-of-the-art tools to handle the most challenging water damage situations. You are calling THE one-stop water damage restoration company who can respond to 24-hour water damage emergencies.
Powerful truck mounted and portable extraction units perform efficient water removal.
Heavy-duty submersible and gas-powered pumps are used for continuous pumping high volumes of water.
Moisture detectors, hygometers and other meters to measure the extent of moisture saturation. Necessary repairs may then begin when the area is determined to be free of excess moisture.
Hardwood Floor Drying Equipment
Hardwood floor drying machines that are capable of reducing or eliminating cupping hardwood.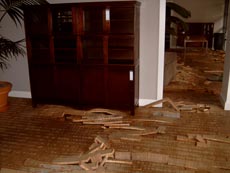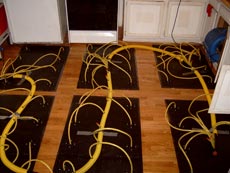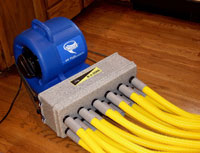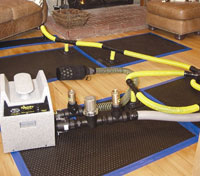 Ultra Dry Freeze-Drying
Ultra Dry Freeze-Dryer is used to restore postcards, stamps, documents, books, and photos.

DO NOT separate pages - put affected items in your freezer and call our office for pickup.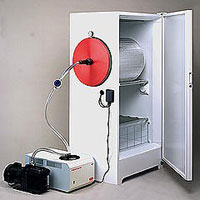 Document Restoration with Vacuum Freeze Drying
Because items such as important and sensitive documents, books, heirlooms and other keepsakes are often of great value, the ability to preserve or restore them should be of utmost concern to insurance providers. In many cases they can mean just as much to the insured as the damage to the structures and premises themselves. In some cases they can mean even more. That's why you need Insurance Restoration Services.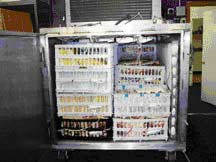 We use state-of-the-art technology in our equipment to effectively and efficiently preserve water damaged documents and valuable keepsakes. It is our vacuum freeze-drying capability that helps set us apart from other restoration companies in the industry
Freeze Drying Process
The freeze-drying process is basically defined as a process where ice is transformed from a solid state to a gaseous state - then recollected as a solid without returning to liquid form. The concept was put to use effectively during World War II by the U.S. Government to store human plasma. Later, the freeze-drying process was introduced to the food and drug industries who saw the huge benefits of its preserving qualities. The process has since gained widespread popularity among certain industry segments as a means to preserve and recover valuable documents damaged by water.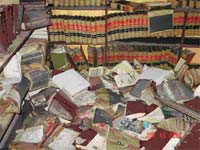 Water damaged books and documents may be fully restored with the freeze dry process.First and foremost, the items to be preserved with freeze-drying are frozen solid. This maintains their integrity, their shape and their form. In this frozen state, they can be stored indefinitely without risk of additional damage. Other drying methods, like vacuum drying, simply don't afford this significant benefit. Drying under vacuum alone takes more time and allows liquid to remain until evaporation. Inks and dyes can still run, stick and stain. Printed pages and other materials can still expand and distort - and rot - where liquid still exists.
Control - freezing items solid stabilizes them until freeze-drying process begins, even at a later date.
Economy - no need to "rush to dry" and incur additional expenses before assessing real damage. And, it's done right the first time.
Prevention - freeze-drying is the performance proven method to virtually eliminate additional damage to items caused by the liquid present during other drying techiques.
Results - water damaged items are preserved as close to their original state as possible in today's restoration technology.
What Can Be Freeze Dry Restored?
Important Business Records
Blueprints
Medical Records
Valuable Artwork
Historical Print Material
Heirlooms and Keepsakes
Hi-Tech Drying Equipment
Industry-grade dehumidifiers reduce humidity levels, producing dry air and minimizing secondary water damage to contents and materials.
High-speed air movers create airflow across walls, carpets, pads, and furniture, evaporating moisture.
Drying equipment controls temperature and humidity, helping prevent swelling and warping of floors, walls, and furniture.