Exposure to biological and chemical contaminants can pose serious health consequences for occupants, employees, and owners. A failure to properly and safely remove such substances can contribute to unhealthy and even dangerous environments. Our technicians are trained to safely and effectively remove biohazardous substances and dispose of them properly according to OSHA and health regulations. Equipped with the necessary safety equipment and cleaning products, our technicians help turn unsafe environments into clean, safe homes and offices.
Helpful Tips On What To DO Until Help Arrives
Do:
Stay out of affected areas
Call emergency service personnel if the situation is life-threatening
Treat all bodily fluids as if they are contaminated
Turn off the HVAC system if there is a sewage damage or any biohazard odors
Don't
Attempt cleanup of any kind
Touch or handle items that might be contaminated with bodily fluids
Eat, drink, smoke, apply cosmetics or handle contact lenses in affected areas
If exposed to harmful waste, OSHA recommends a post-exposure medical evaluation.
Consult your local health department or physician.
Crime Scene Cleanup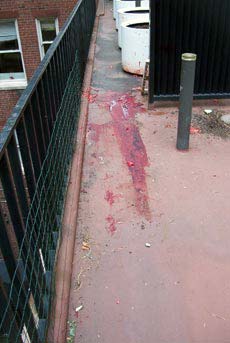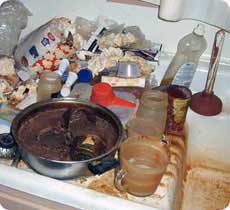 Bloodborne Pathogens
Remove and dispose of bodily fluids, tissue, and other potentially pathogenic substances resulting from accident, trauma, crime, or death. Our trained professionals clean, disinfect and deodorize the structure.
Crime Scene Residues
From fingerprint powder and evidence-gathering chemicals to tear gas and pepper spray residues, our trained professionals can clean and restore your property after a crime scene investigation.
Methamphetamine Labs
Many of the chemicals used in the production of illegal drugs are volatile and can leave harmful residues throughout a structure. Our trained professionals follow federal and state guidelines to properly clean all surfaces of toxic chemicals.
Death Scene Cleanup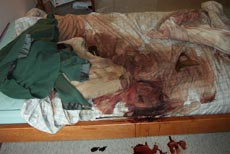 Accidental Death, Homicide & Suicide Cleanup
Safely and discreetly cleanup the death scene.
Hoarding Cleanup, Gross Filth and Sewage Backup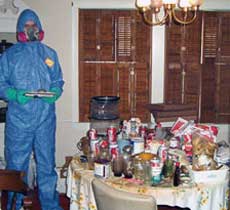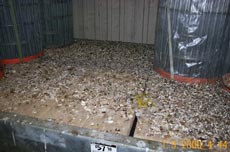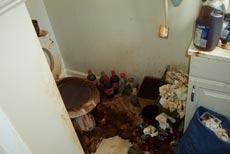 Hoarding Cleanup
Hoarding can be characterized as a person with a compulsive or pathological disorder who accumulates an excessive amount of items that they feel cannot be thrown away even though the items may be worthless, decayed, or even hazardous. We remove, clean, disinfect and deodorize the affected area.
Vandalism, Graffiti, Gross Filth
General vandalism cleanup, graffiti removal. Deodorization services for situations involving spoiled foods and human and animal waste.
Sewage Backups
Sewage backups and dark water intrusions are more than nasty, smelly deposits – these damages also introduce harmful microorganisms into a structure. We remove the sewage, contaminants, and moisture, and help ensure the structure is properly cleaned, disinfected, and deodorized.