Every year, thousands of homes are damaged or destroyed by fire and smoke. In 2010, 1.3 million fires were reported. Of these were 482,000 structure fires, 215,500 vehicle fires, and 634,000 were outside or other fires. When combined, these fires caused over $11 billion in property damage.
Fire Prevention Tips
Space heaters should automatically shut off when tipped over. Below are a few examples.
Smoke detectors and Carbon Monoxide detectors should be checked every month to ensure the battery is strong. Below are a few examples.
Christmas tree lights should not be left on when nobody is home. Always turn off the lights when leaving or going to sleep.
Christmas trees should be watered daily to keep them from drying out.
Christmas trees should be removed from your home if they dry out.
Christmas trees should not be burned in your fireplace. The needles of the tree contain highly flammable oils that create more Creosote in your chimney flue. Christmas trees burn extremely fast and can overwhelm you.
Fireplace ashes should never be thrown into the trash and left indoors. Ashes can remain hot for a long time and ignite in your trash. Take your ashes outside, and use water to extinguish any hot coals.
Fireplaces use a chimney or a vent system to carry dangerous gas and smoke safely out of the home. This gas and smoke includes water vapor, unburned wood particles, hydrocarbon volatile, tar and assorted minerals, which accumulate over time in your chimney. This accumulation is called Creosote is usually black or brown and can be flaky, sticky, or hard. It is unavoidable and is highly combustible. Therefore, it's important to have a professional inspect your chimney regularly and cleaned if needed.
Never go to sleep with a fire in your fireplace or wood burning stove. Fireplaces and wood burning stoves should not be your only source of heat. Use a furnace.
Furnaces should not have debris near the heat source. When the furnace lights up, any material lying against the furnace could catch fire and spread.
Extension cords should be in good condition.
Do not overload your outlets.
Helpful Tips Until Help Arrives
Do:
Limit movement in the home to prevent soot particles from being imbedded into upholstery and carpets
Keep hands clean. Soot on hands can further soil upholstery, walls and woodwork
Blow or brush vacuum loose soot particles from upholstery, drapes and carpets
Place clean towels or old linens on rugs, upholstery and carpet traffic areas
If electricity is off, empty freezer and refrigerator completely and prop doors open
Clean and protect chrome on kitchen and bathroom faucets, trim and appliances with light coating of Vaseline or oil
Wash house plants on both sides of leaves
Change HVAC filter
Tape double layers of cheesecloth over air registers
Don't
Attempt to wash any walls or painted surfaces without first contacting us
Attempt to shampoo carpet or upholstered furniture without first consulting us
Attempt to clean any electrical appliances, TV sets,radios, etc. that may have been close to fire, heat or water without first consulting an authorized repair service
Use any canned or packaged food or beverages that may have been stored close to fire, heat or water (They may be contaminated)
Turn on ceiling fixtures if ceiling is wet. Wiring maybe wet or damaged
Send garments to ordinary dry cleaner. Improper cleaning may set smoke odor
Fire and Smoke Experts
Insurance Restoration Services provides fire damage restoration services to business owners and homeowners who have experienced a fire or smoke damage.
If you are a victim of a fire, your home or business is damaged, and you don't know where to turn for help, give us a call at 773-248-8200 OR 847-266-7100 OR 708-707-6200. We'll help you get your home or business back to normal.
Fire Damage Restoration Services
24/7 emergency response and the ability to be on site within 90 minutes
Insurance claims assistance
Stabilization of damaged structures
Emergency board-up service
Cleaning, deodorization and air purification
Water damage restoration.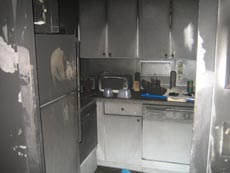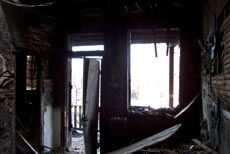 Analysis & Pretesting
Because fire loss is very complex, it is important for certified fire damage technicians to analyze and pretest the loss.
Smoke has very unique behaviors. Each is very different depending on the type of fire.
Hot smoke migrates to cooler areas and rises to upper levels of a structure.
Smoke can flow into and through plumbing systems, through cracks, electrical outlets, etc.
Wet smoke occurs when there is a low heat, smoldering type fire. Wet smoke is more difficult to clean than the other types of smoke.
Dry smoke occurs in a fast burning fire of very high temperatures.
Protein smoke is virtually invisible but discolors paints and varnishes and has an extremely pungent odor.
Fuel oil soot is caused by defective furnaces.
Tear gas, fingerprint powder and fire extinguisher residue are also considered smoke.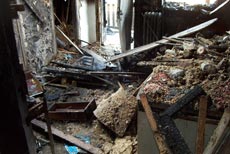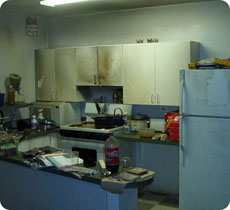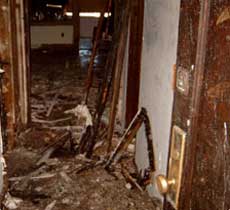 Salvage & Restore Personal Possessions
What sets Insurance Restoration Services apart from the competition is we understand that you worked hard to purchase your personal property. That's why we work just as hard to salvage and restore them instead of simply considering them a total loss. Our experts analyze everything to ensure your loss is as minimal as possible and salvage what can be.
Our specialized state-of-the-art equipment is able to clean and restore furniture, clothing, paintings, and your other cherished items.
We understand the trauma and mental anguish a fire loss can create. That's why we work fast to get you back into your home or business.